First flying robot inspecting an Offshore platform
Inspection performes 20 meters below sea level
65 UT readings and 100 high-quality images
SKYRON broke new ground as the first flying robot to carry out contact-based NDT inspection on an offshore platform. The offshore platform in question, one of the largest in the world, is a massive isolated structure surrounded by water. This robotic inspection method ensured the safety of the crew, in stark contrast to the traditional inspection methods. 
Traditionally, inspectors used rope access to reach the challenging spots on offshore platforms. While rope access granted access, it was time-consuming, expensive, and put the inspectors in hazardous positions.
SKYRON, a Tethered Flying Robot, provided a safe, efficient, and cost-effective solution for NDT inspection. It only required a two-member crew to conduct both contact-based and visual inspections. The robot performed contact-based inspections by attaching to the targeted surfaces, providing a secure and stable platform for precise measurements. 
The inspection of the offshore platform was a new challenge as it was the first time a flying robot was used. The hot and humid conditions in the FPSO tank made the inspection mission even more challenging. High temperatures and humidity in the work environment can cause heat exhaustion and even heat stroke. The inspectors had to minimize movement to avoid these risks. In a conventional inspection, the inspection team would have had to move scaffolding equipment down the hatch, set it up, and climb to reach the required measurement location. With SKYRON, the inspectors only had to set it up and start the inspection within 15 minutes, with the added benefit of being able to pilot and inspect the asset from a safe distance.
The metallic rust on the surface created obstructive material and air pockets between the Ultrasonic Gauge and the asset, which could lead to inaccurate thickness readings. SKYRON\'s onboard surface preparation mechanism, a wire brush, removed the rust and debris from the target surface by rotating the brush at high speeds while making stable contact with the surface. After cleaning the surface, the couplant gel was dispensed, and accurate UT measurements were taken. The brush system was used successfully on the offshore platform, repeatedly removing the metallic rust and providing accurate readings.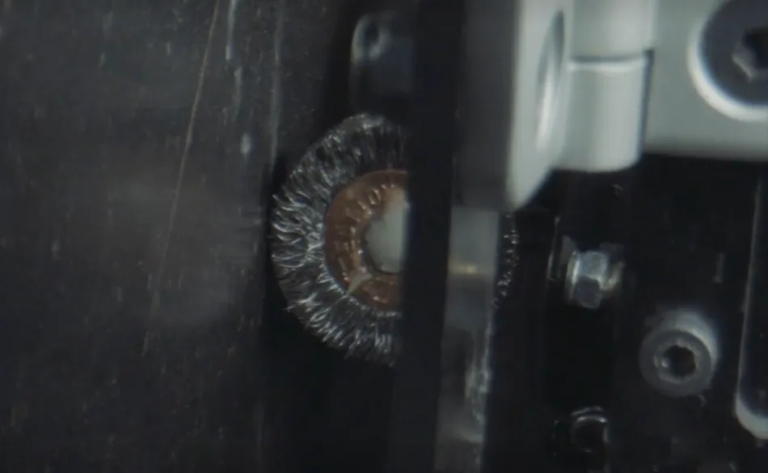 The outcome of this first-ever flying robot inspection on an offshore platform was promising. The inspectors completed the inspection in a humid and hot environment without any concerns about heat exhaustion. Additionally, they were able to remove the obstructive debris, which was a primary cause of the problem. This successful inspection of an offshore platform opens up a world of possibilities for efficient and safe robotic NDT inspections in the future.